Today we're shining the spotlight on the achievements of one little Sheltie called Halo from the UK and talking to her owner and handler Apryl Britton on their bright future in agility! Keep on reading to find out how they've been getting on.
Following some fantastic wins and achievements, including a Gold for Team GB at the IMCA Championships in Spain this year, Halo and Apryl have been selected by The Kennel Club to form part of the Team GB Development Squad 2020. Join us today on the blog to find out what being on the Development Squad entails, their hopes for the future and just what does Halo and Halloween have in common? Let's find out!
I Love Shelties: Behind every dog there's a brilliant handler so tell us a little about yourself to start with!
Apryl: I live with my husband, Richard, and 7 dogs in Wiltshire [UK]. I work full time as a civil servant and currently am doing my Level 3 Diploma in Dog Grooming. I've always had a love for animals but was never allowed a dog as a child. I got my first dog at 17 and I still have her today, Trixie, my Jack Russell Terrier who is now 14 years old. Dog Agility is my much loved hobby and I am very lucky to share that, not only with my dogs, but also with my husband who now competes (and he's not bad at it either).
ILS: Have you always owned and trained dogs?
Apryl: I got my first dog at 17. I now own 7 dogs and I most recently lost my Springer Spaniel, Neville, but my love is with Shelties and I have Breeze (my first Sheltie) to thank for that. She is my heart dog, my one in a million, with Halo being my one in a million version 2. I have always trained my own dogs and my husband's, so every spare minute after work I do small training sessions with my them before it gets dark.
ILS: How did Halo come into your life?
Apryl: I had contacted Miguel De Coninck from Belgium to say I loved his Shelties. My name was down for a pup but unfortunately there was not enough to go round, however this meant I had pick of the litter on a different line. I wanted a Bi-Blue girl and with that their pups were born, unfortunately the Bi-Blue did not make it and with that Halo became mine. She was born on 30th October and that's how she got the name Halo from being my Halloween Treat.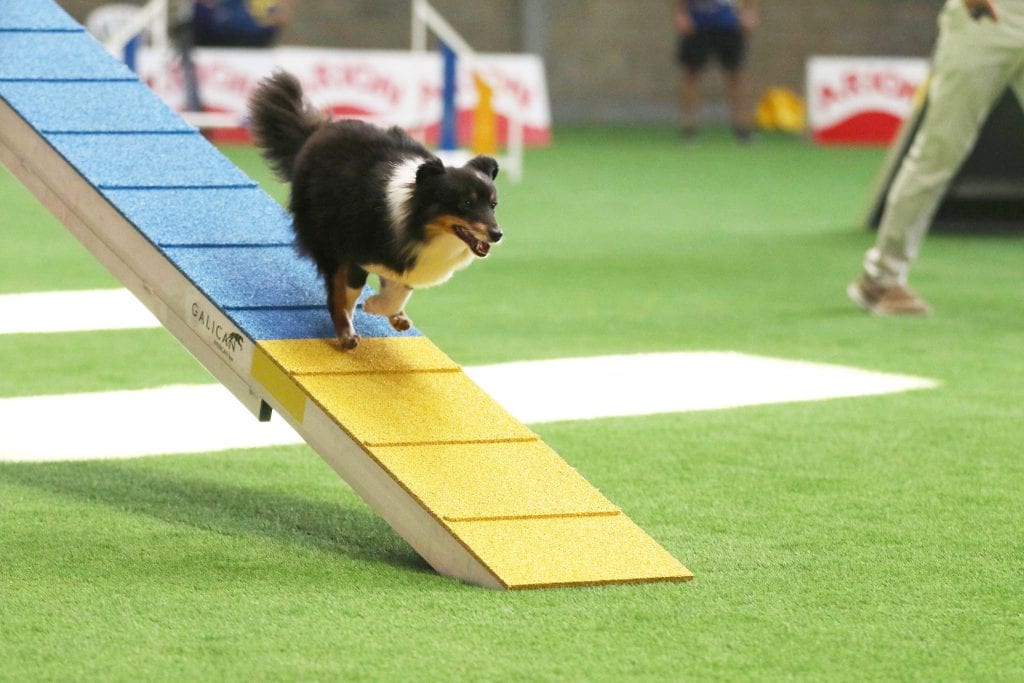 ILS: What is Halo like to live with and what's her personality like?
Apryl: To live with Halo is a complete dream, but Halo has a weakness and that is food, so she never fails to tell me she is starving hungry and requires her breakfast and dinner. Halo is shy and therefore doesn't interact with strangers, which I prefer, so I've spent a long time building her confidence and having patience with her to get her to the confident dog she has become today. She is the dog that runs over to lick my tears away, she's the dog that makes me laugh and is so happy that her bum rarely stays still.
ILS: How did you get into agility?
Apryl: When I got my first dog I took her to puppy classes and the same training school had agility and that's the start of it all. I realised my Terrier would rather check out the burger van than run agility, so at 21 I got my first agility dog, Breeze, she was also my first Sheltie who retired last year from agility. She was so naughty and taught me so much but she also had her own successes including a Reserve Championship Ticket being our highlight. Agility had evolved so much with running contacts and different handling styles but I am very lucky that Halo loves to learn and helps my understanding and learning to agility much smoother.
ILS: Have there been many challenges in your agility training with Halo?
Apryl: Yes, my biggest challenge with Halo was her confidence. When I started she didn't love it, but we have worked hard together to form a partnership. For her to trust me and know I won't let anything happen to her. So waiting on that start line with the noise, people watching and excitable dogs around is okay whilst I walk away because in that ring it's just me and her. It's taken Halo longer to build her confidence but I would say now she is showing her true potential and has even started crying with excitement to do agility and barking on the course.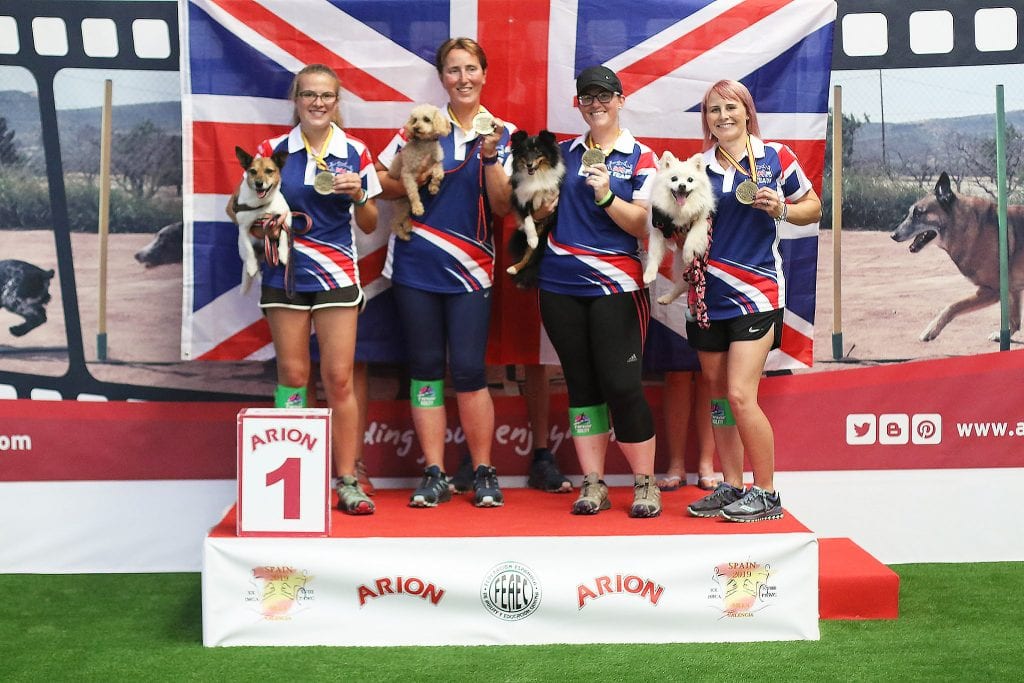 ILS: What have been some of your proudest achievements together?
Apryl: Halo has achieved many proud moments I would say my highlight to date and achieved this year have been competing at Crufts and qualifying again for 2020 and winning gold medal at IMCA championship for Team UK in Spain. Halo also won her very first final at Dogs in Need and earned a trophy as big as her, any achievement I am proud of because Halo's height category is up to 35cm and she is only 31cm so she gives everything to keep up with the best in our height category.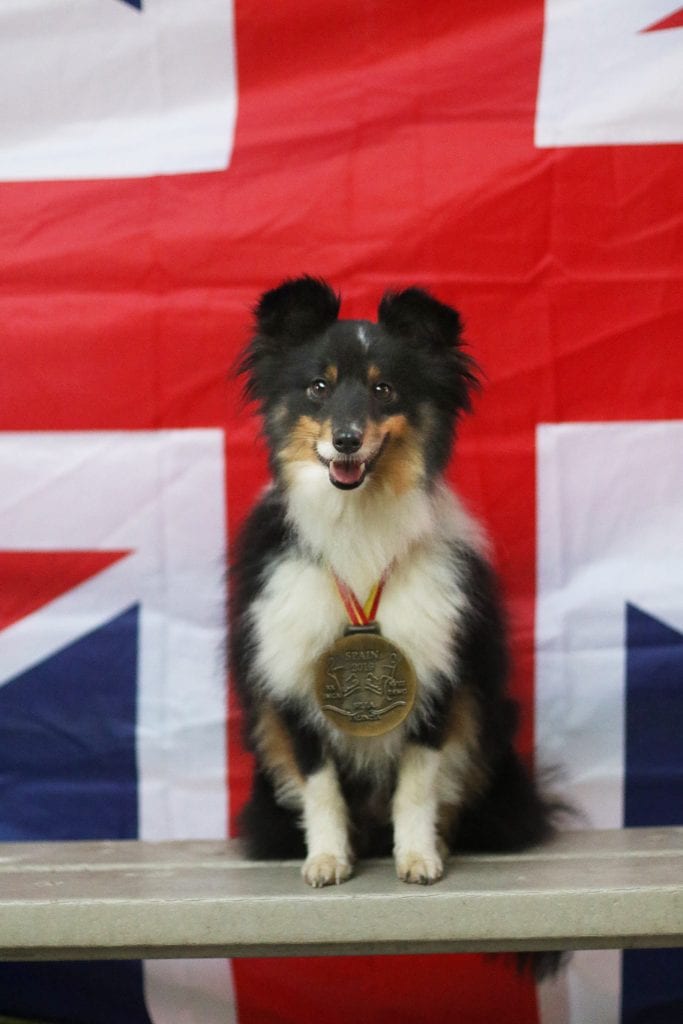 ILS: You've been selected for the Kennel Club's Team GB squad for 2020 (congratulations!) How did that come about?
Apryl: Thank you so much. Halo was selected through the development squad who look at dogs throughout the year with potential. A way to go about being noticed was to enter the GB Performance weekend in March whereby she won her agility round, and from this year a new event called the GB international tour was developed which was a point scoring system whereby you enter various shows throughout the year which has a European style course and a larger ring. I competed at three of shows this year, each time either being placed in an individual round gaining points as well as winning the overall twice which meant she ended top of the leader board on points in her height category and was then called up for GB squad.
ILS: What happens next in your Team GB 2020 training and competing?
Apryl: During the winter Halo and I will keep our fitness but we have more downtime and rest from competitions. So we will do training days to keep up our skills but enjoy more winter walks just being a much loved pet. In terms of GB, I have a handler only attendance day in November and then have a training weekend with dogs in February and in March have the GB performance weekend. After this event the GB teams are picked for the AWC and EOs.
ILS: What's your biggest dream to achieve with Halo?
Apryl: I have one dream and it would mean so much to me if I achieved that with Halo, and that would be to win an Agility Championship Ticket. If you win three you get Agility Champion status and that would be a dream come true for Halo and I.