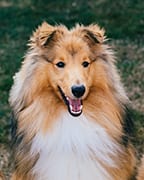 Now entering the fourth year of the I Love Shelties Annual, we are opening submissions once again and need YOUR help to make it even better than last year!
Featuring shelties from around the world this global celebration of our favourite breed is due for release in September/October 2024. The annual will be published by Tecassia Publishing, based in the UK run by Camilla Fellas Arnold, a sheltie lover and owner for over 25 years.
To date, we have donated £750 to the English Shetland Sheepdog Club and Yorkshire Shetland Sheepdog Club's Welfare and Rescue Coordination efforts. Our 2023 Annual proceeds will be donated to Pet Blood Bank UK. The donation amount will be announced with the publication of the 2024 edition of the annual.
Pitch/Get Involved
We have categories in our submission form for some of the most popular sections of our book but we love to hear ideas for new stories and articles to include that may be of interest to sheltie lovers around the world. Similarly, if you are interested in helping with the organisation, production or promotion of the book, we'd love to hear from you.
We work on the annual for free because we love it but it can be a time-consuming job. If you are interested in sponsoring the annual to help support the production and associated costs, we'd love to hear from you! Please email hello@iloveshelties.com with the subject heading 'Annual Sponsorship' to discuss.
Submission Categories
NEW for 2024:  Postcard Pupdates
If you've sent in a story previously to the annual and would like to share an update – this is the category for you. Please keep updates under 1000 words.
Survival Stories/Overcoming Adversity Stories
Your stories of shelties that beat the odds. Be sure to include some photos!
Rescue Stories/Charities
Stories of rescued shelties, or people who run or volunteer at a charity helping shelties
Where Would I Be Without a Sheltie?
Stories of how shelties have impacted your life
What Makes A Sheltie So Special?/Heart Dogs
Tell us about the dogs that have a special place in your heart. What makes them so special to you?
Your First Sheltie 
Show us the sheltie that got you hooked on the breed!
Rainbow Bridge 
Tributes to the special shelties you've lost. If you have lost a sheltie this year that has previously been featured in the annual, let us know as we like to dedicate the next edition to them.
Therapy or Support Shelties
Let's hear about them doing their job and why they love it!
Competitions, Dog Sports and Work
We love to hear about all the dog activities you get up to including in the conformation show ring, Agility, Rally-O, Scentwork and anything else!
Funny/Naughty Shelties
We love to see all the antics you get up to for our photo pages!

A Sheltie For All Seasons
Show us your seasonal photos for our much loved photo section!

Fancy Dress Shelties
Show us your outfits from all year round!

Photos With Last Year's Annual
If you've enjoyed last year's annual, share a photo for us to put on our fan page!

Poetry/Short Stories, 
Sheltie Crafts/Creations/Artwork
We love to see your creativity!

2024 Annual Cover Star
If you've got a stand out photo that you think could be the perfect cover – we want to see it!
Have an idea for a story that doesn't fit the categories above? No problem! We'd love to hear from you regardless so please get in touch!
Submissions Open 04/04/2023 – 30/05/2024
Please fill in the submission form below and attach your images. Make sure to label files (or explain in the notes) so we can match the photos up correctly and put them in the right section of the book. Don't forget to include your Sheltie's name/age/location in the submission so we can put them in the Hall of Fame!
If you are submitting large, high quality images, use a file transfer service like WeTransfer and put the download link in the notes on the submission form. We regret that we cannot accept submissions sent via email, please use the form on this page.
By submitting you agree to our terms and conditions. Please ensure that you have permission to submit the images if you did not take them and if the images include any people, that those people have given their permission for it to be used inside the book.
We will endeavour to include as many submissions as possible but depending on the volume of submissions this may not be possible to include everyone. Please add hello@iloveshelties.com to your contacts or whitelist the email address to ensure you do not miss any communications regarding the annual.
We can't wait to see your submissions!